We are thrilled to launch the Sailing Legend Series as part of our new youth programme, Generation JOG, aimed at those aged 25 years and under. Throughout the Autumn and Winter months of 2021/22, Generation JOG members will have the unique opportunity to attend a series of webinars, where they will have the opportunity to ask prominent sailing legends questions about their experiences, tips, and upcoming plans. And it is entirely FREE for Generation JOG members to attend. 
The lineup includes the following and many of which are regular JOG participants: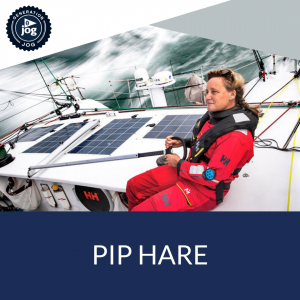 Pip Hare, Vendee Globe veteran – 19th October 2021 18:30hrs
"Helping to inspire the next generation of sailors is really important to me. Sailing – especially offshore – is such a great sport and I'd like to see more people get involved and discover the same enjoyment and adventure that I've found. It's not always clear how to make it into offshore sailing, so I'm delighted to be able to help JOG – and hopefully inspire others to take on challenges like the Vendee Globe."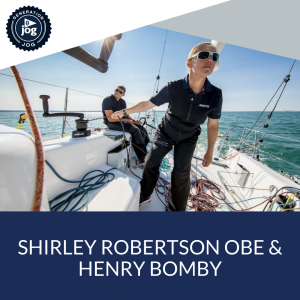 Shirley Robertson OBE & Henry Bomby – Olympic Gold Medallist and Volvo Ocean Race Competitor – 16th November 2021 18:30hrs
"At the age of 17 Henry took off to sail round the UK alone in a boat he'd saved up to buy and had prepared himself…….since then he has never stopped  ploughing his own furrow. Shorthanded Offshore sailing is about just that, making your own decisions, making the best of what you have, asking for advice…somehow making it all work. I'm pretty new to  short handed sailing but already I'm drawn to the challenge, it's hard ….addictive. Henry and I are delighted to be part of this JOG initiative – if we can help our next generation of offshore stars plough their own furrow  then we're thrilled to part of it."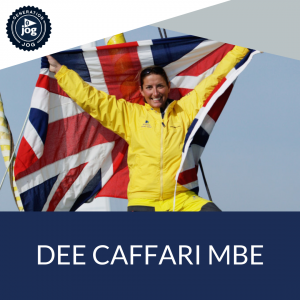 Dee Caffari MBE – most decorated British female offshore sailor – 14th December 2021 18:30hrs
Pip Hare will be kicking off the Sailing Legend Series on Tuesday 19th October at 18H30. Having worked her way up through the ranks to Vendee Globe veteran – and the first Brit to cross the finish line earlier this year, she has shown full support for this programme.
If you are a Generation JOG member and would like to attend the first webinar, register here and not miss out on this great opportunity to interview this Vendee Globe legend.